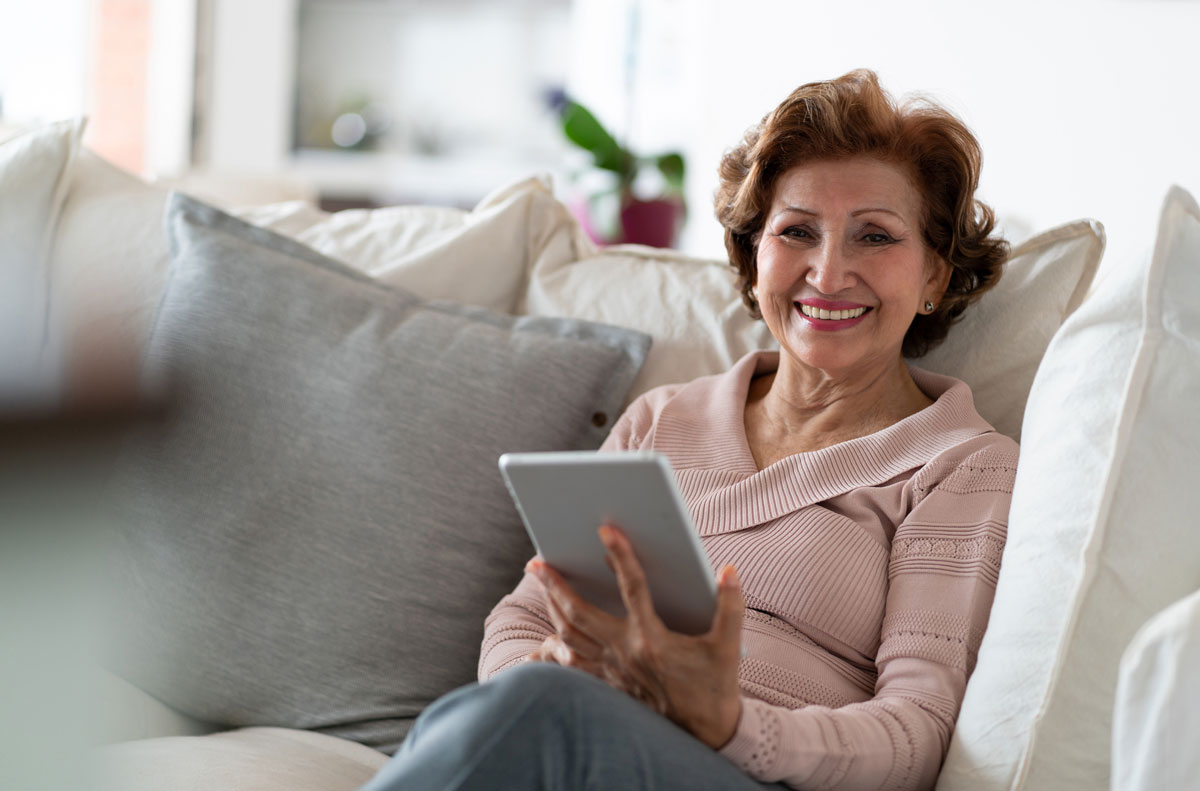 10 Tips to Make an Assisted Living Apartment Feel Like Home
Assisted Living
March 14, 2020
Moving Mom or Dad into an assisted living apartment can be an emotional experience for everyone involved. It's a big step, and although both parties know it's for the best, a big change like that can be rattling, to say the least. Something you can do to make the transition as smooth as possible for your senior parent is to help make their assisted living apartment feel like home. Decorating an assisted living apartment requires a balance between practicality and style, so we put together a list of tips for you to follow while you're choosing what comes with you to your parent's new home.
Use lots of photographs. Photos are a wonderful representation of the most treasured moments of one's life. They're a constant reminder of those people we love most, and they provide a very personal touch to any space. Sorting through photographs with your parent as you pack to move and having them choose their favorites to display is a wonderful and meaningful activity to do together, so start with that. Once your parent has selected their favorites, display them in standing frames, a gallery on the wall, or in a digital picture frame.
Consider your parent's physical mobility. If your parent has any physical limitations, like using a walker or a wheelchair, don't overcrowd the space with furniture and objects that would make it hard for them to maneuver. When decorating an assisted living apartment, it's important to be cognizant of a senior's needs, and try to anticipate what they may have difficulty with and what could be made easier for them.
Add color to the space. What are your parent's favorite colors? Serene blues and tranquil cool tones can be calming. Earth tones can be grounding. Reds and warmer colors can be lively and fun. Assisted living room decorating can have its limitations; you may not be able to paint a wall an accent color, but you can make the space more homelike by incorporating their favorite colors as accent pillows, blankets and art pieces.
Watch for tripping hazards. Items low on the ground may not be easily visible, and could cause a fall if poorly placed. Area rugs may also cause difficulty, so keep that in mind.
Use your parent's own memorabilia from throughout the ages to provide functionality and serve as assisted living décor. Your parent is more likely to feel at home when they're surrounded by their own furniture, which they've been around for years. Things like an old trunk or a chest of drawers can both provide storage and familiarity. When trying to figure out how to decorate a small assisted living space, think about duality in the pieces you incorporate – everything should be chosen intentionally to serve as both a practical and comforting item. Decorate surfaces with the keepsakes they've collected over the years, such as awards to remind them of their proudest moments, souvenirs that bring back memories of adventures and happy times, or perhaps musical instruments they may still play.
Make sure everything is within reach. Your senior parent may not have the mobility to reach for things slightly out of grasp, so make it easy for them by making things easily accessible.
Consider how lighting changes the ambiance. Bright overhead lighting can be harsh. Opt instead for warmer or soft white lighting, and use table and floor lamps to distribute the light more evenly throughout the space. Make sure there's a lamp in place next to the bed, so they can see what they're doing right up until they're ready to go to sleep. And if they like to read,, make sure there's a lamp wherever they read, whether that's at a desk, in a chair, or in bed.
Give them a place to be other than their bed. If the only options to rest are in bed or in the common spaces, your parent may start to feel a little trapped. Lying in bed all day can make someone feel lazy, and not everyone wants to be around people when they're in need of a little R&R. So add in a comfortable chair that's easy to get in and out of, so they can choose to be there when they want to relax. This can also be a place for friends and family to sit when they visit. When decorating an assisted living apartment, you're often working with a small space, but it can restore a sense of independence and autonomy when your senior parent feels they have the means to invite others into their space when they want to.
Install a bulletin board. Bulletin or memo boards are great for two reasons: They provide a contained space for notes, reminders, schedules and calendars, and they double as a decorative space for mementos such as tickets, photos, postcards, etc. The clutter from these small items is reduced by containing them within one space, and they can be changed out easily when the information is no longer relevant or the board gets full and it's time for a refresh. Plus, this can be a fun collaging activity for your parent to add things they like or are important to them. They could even treat it like a mood board and add clippings from newspapers and magazines, or anything that catches their eye. It's one way to be creative and inspired, while also staying organized.
Go all out on the bedding. A bed should be a sanctuary for your parent … the one place they feel safest and coziest. Don't be shy about pillows, choose the warmest and fluffiest comforter, and choose bedding in their favorite colors. If they're a quilter or own a quilt, that makes for a nice addition for personality and extra warmth.
While it's a big transition to move your parent into assisted living, the process can be fun if the whole family decides to stay positive and make it enjoyable. Make going through their belongings a lighthearted and productive activity. You both can reminisce on a lifetime's worth of treasures while downsizing the number things they own. And decorating a new space is always fun if your parent looks at it as a chance to express themselves in a new environment, knowing they're going somewhere they'll be well cared for.
We hope you take these assisted living decorating ideas and apply them to your parent's new home at one of Eagle Senior Living's high-quality assisted living communities across the country. We do everything we can on our end to make Eagle Senior Living's assisted living communities as warm and welcoming as possible. All you have to do is add your aging parent's unique style and individuality to the mix, which helps create a community that feels like home for all the residents. Find the community closest to you, and start thinking about how you'll infuse personality and practicality when you're decorating an assisted living apartment for your mom or dad.