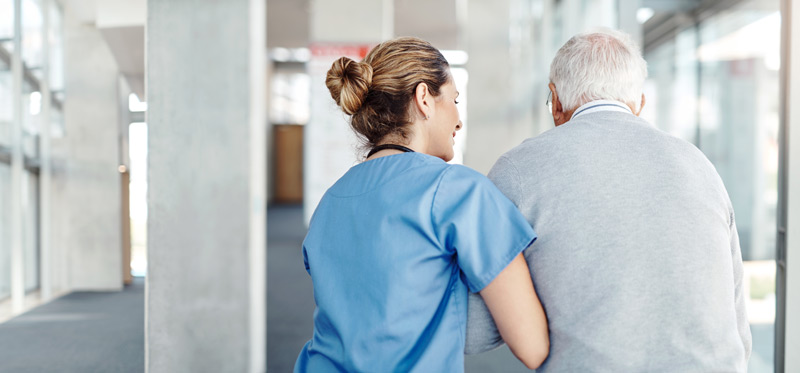 Tips for Managing Caregiver Burnout and Stress
Blog
January 30, 2020
Is your relationship with your parent not what it used to be? Is the time that you once spent having meaningful interactions with them now spent assisting them with Activities of Daily Living (ADLs), at doctor's appointments, or otherwise caring for them out of obligation? The role reversal between parent and child can lead to caregiver burnout, but you can catch it before it gets out of hand. Watch for these signs of caregiver burnout, so you know when it's time to seek help or make a change:
You always feel tired.

Your weight, skin, and/or sleep patterns are out of balance.

You're unusually irritable.

You feel overwhelmed to the point of hopelessness.

You're experiencing depression and/or anxiety.
There are many reasons why one may feel obligated to step into the role of primary caretaker of their parent. Assisted living and senior independent living communities can be expensive, so many seniors try to stay in their homes for as long as possible, and their children may become their caretakers to avoid having to incur the costs of senior living. You may be the only child or family member available to care for your aging parent. You may have other personal reasons for feeling obligated to be your parent's primary caregiver.
If you've experienced any of the aforementioned signs of caregiver burnout, it's time to think about the many ways, big and small, you can change your life to alleviate some of the stress. There are many caregiver burnout prevention tactics you can adopt as daily habits. Let's start with the small things:
Dedicate some time, even if only a little, to

you

each day.

"Me time" is a luxury many take for granted, but it really is important to have something that's just for you. Maybe that's waking up in the morning and having a cup of tea while reading a book for 30 minutes before the rest of the household wakes up. Maybe it's a quick 30-minute workout right after work before you come home to a full house. This little bit of solo time to recharge is vitally important to securing your individuality and independence, and restoring your energy so you're able to extend yourself for others.

Make your communication with friends and family more efficient.

One of the worst parts of dealing with a medical situation is explaining your situation to multiple doctors and nurses, as well as friends and family. Create an email group or a social media group for just family and close friends where you can update everyone at once on what's going on with grandma. The medical professionals should be more up to date, but if you have to tell your story more than once, save your breath by coming up with an "elevator speech" of sorts to give them the lowdown quickly — just the bullet points.

Don't be afraid to ask for help.

No one should have to do it alone. First, seek talk therapy if it's within your means. Therapy can be beneficial for everyone, and especially those who feel extra pressure and stress. Join a support group. Ask your local hospitals and churches if they offer such services, or go online — there are plenty of resources available.
Now, let's talk about some bigger changes you might want to start thinking about:
Enlist another family member or close friend to help you care for your parent, and put it on a regular schedule.

The key here is deciding on days, times and tasks each of you will be responsible for your parent, and sticking to them. Like a job, it takes dedication and commitment to be successful and make everyone in this situation happy. Perhaps your sibling could be responsible for caring for your parent on certain days of the week to allow you both some time to yourselves.

Look into assisted living or memory care facilities for your parent.

This can become necessary when the amount of time and/or energy spent caring for your parent exceeds your capacity. It can be daunting to begin this process, but know

there are resources available to you

to make your search as smooth as possible. Start by asking for recommendations from health care professionals and friends who have been through the same thing. Then consult the web, where you'll find a plethora of information and websites so you can compare your options side by side.
Setting boundaries. Immediate and long-term planning. Mapping out your days and quantifying the amount of time you're spending on each aspect of your life. Accepting help. These concepts will be key to you as you navigate the endearing, albeit sometimes tricky, role of primary caregiver for your parent. But the first step is recognizing the signs of caregiver burnout, so you can get ahead of them. Preserve your relationship with your parent and your current lifestyle by using caregiver burnout prevention tactics to navigate your new role with grace and confidence.
If you do find your parent's needs are beyond your capabilities, and it's time to consider enlisting professional care, you may want to consider assisted living. Read about how to know when it's time for assisted living. In the meantime, use caregiver burnout prevention tactics to manage your current situation, and remember that you aren't alone, your current circumstances are only temporary, and you're doing your loved one an incredibly selfless service by caring for them.