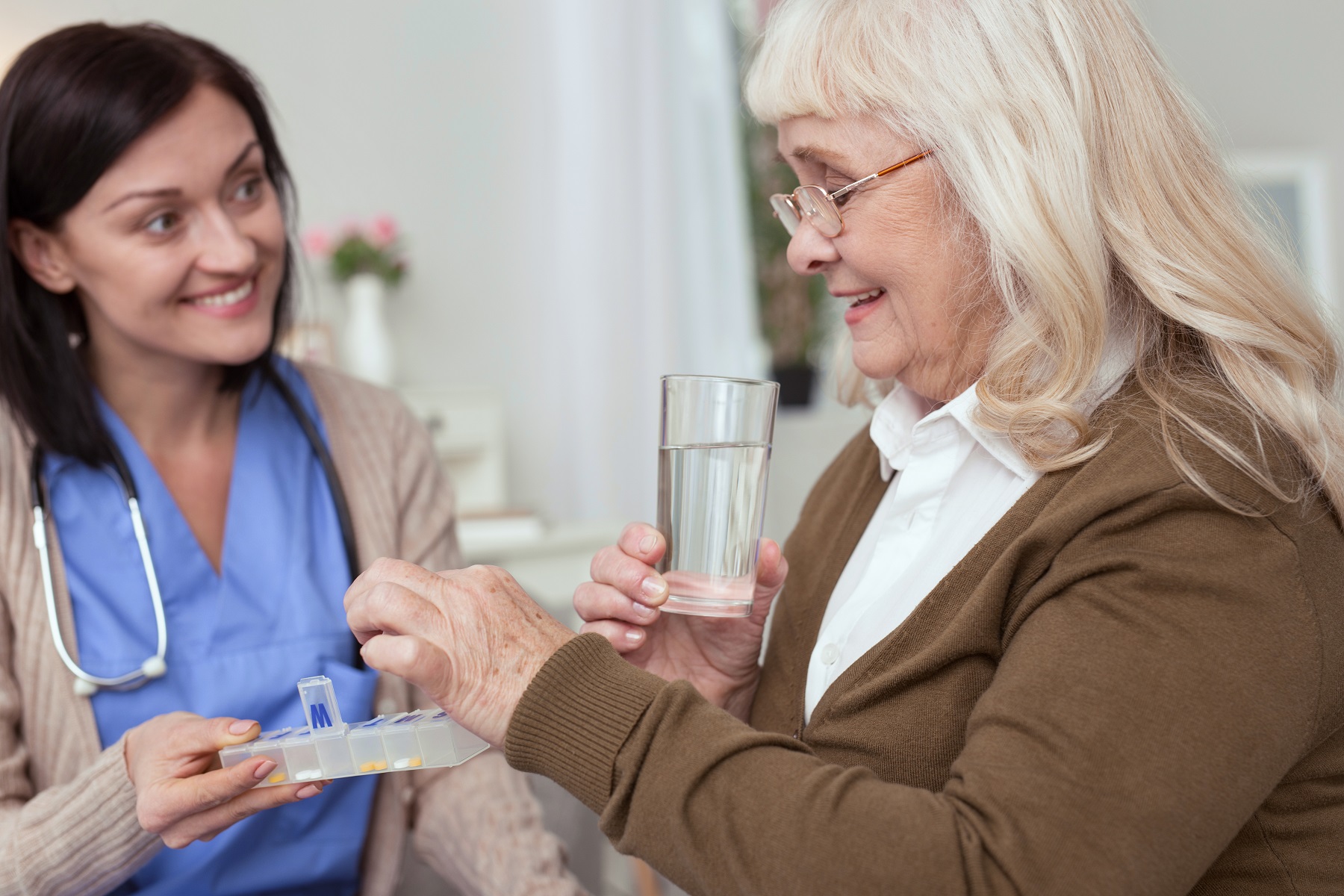 Safe Medication Management: Tips for Seniors
Blog
July 26, 2021
What are Ways Seniors Can Safely Manage Medications?
As the U.S. population overall gets older, seniors are living with more chronic health conditions such as diabetes, arthritis, high blood pressure and kidney disease. Older adults are also taking increasingly more medications to help manage these conditions.
Medications and aging adults
Taking more medications isn't necessarily a bad thing. In fact, it might hint at the strides medicine has made toward better patient care. When the right medications are prescribed and taken correctly, seniors can manage their chronic diseases at home or in a care setting, whereas at one time those illnesses may have been life-threatening and required care in a hospital.
However, the number of medications seniors are taking may be surprising. A 2010 investigation by the National Center for Health Statistics studied 2007-2008 drug data and found about 33% of American seniors over 60 were on five or more prescription medications. Another study published in 2012 reported 12% of aging adults — both men and women — took 10 or more prescriptions a week.
It's so common that there's a word for it: polypharmacy. It's defined as the group of medications a person may be taking. But its use has morphed in recent years to refer to many prescriptions prescribed by many different doctors and not coordinated well.
Polypharmacy can be a problem for many reasons:

It can increase the risk of using potentially inappropriate medications, which can lead to long-term physical and cognitive issues.
It can lead to medication nonadherence.
It raises the chances of taking duplicate drugs, interactions and adverse side effects.
It raises healthcare costs.
For safety's sake, some seniors may greatly benefit from a spouse, adult child or caregiver who can help manage medications.

Safe medication management for seniors
The Food and Drug Administration suggests seniors learn as much as they can about their medications. Seniors should also talk with their doctors, and ask questions about possible interactions with other drugs, alcohol and food.
The FDA offers eight tips to help aging adults improve medication management (these tips are great for caregivers to remember, too):
All medicines count – including over-the-counter medicines, topical medicines and vitamins. Make a list of everything you use and take that list with you to your appointments.
Share your medical history. Know all your health conditions and how you're being treated for them. You should also know if you have any food allergies or allergic reactions to medications. If you can't remember, write it all down and bring this information with you to every appointment.
Keep in touch with your doctors regularly. Check in to see how a medication may be working, and if you need to increase or decrease the dosage. But don't stop taking your medication without talking with your doctor.
Be honest about what you eat, drink and smoke. If you drink alcohol, smoke cigarettes or chew tobacco, tell your doctor. If you changed to a low-fat or high-calcium diet, tell your doctor. These things can affect how medicine works.
Recognize and remember your medications. Some pills look alike. If you're having trouble telling your medicines apart, ask your doctor if there are better ways to distinguish your medicines. If you forget to take them, try writing them on a calendar or set an alarm on your phone when it's time to take them. Consider organizing your pills in a pill box.
If you have trouble swallowing tablets, ask for alternative ideas. Your doctor or pharmacist may know about a liquid alternative, or you may be permitted to crush, break or chew your tablets. Don't modify your medicine in any way before checking with your healthcare professional.
Consider your lifestyle. If taking medication four times a day is a problem, there may be something you can take only once or twice a day.
Write it down. Ask your doctor to write out your complete medicine schedule with directions on how and when to take them.
Good questions seniors should ask when starting a new medication
If you're on multiple medications and your doctor prescribes a new one, review your prescription before you finish up your appointment. (If you run out of time, don't worry: You can always talk with your pharmacist when you go in to get the prescription filled.)
Here are some good questions to ask:
What is this medication for?
Will it interact in any way with the medications I'm already taking?
How long will I need to be on it?
Are there any side effects I need to watch out for?
How will I know it's working, and how long will it take?
Is this covered by my insurance? How much is it? Is there a generic alternative?
Trust the caring professionals at Eagle Senior Living
Every Eagle Senior Living community offers safe medication management for our older adult residents. Yet we offer so much more, from independent living and assisted living to memory care, in 15 communities across seven states.
If you're a senior and you'd like to learn more about your living options, call us at 1-855-646-8366.
If you're a caregiver of an aging adult and you'd like to let go of worries over providing the right care and return to being a loving son, daughter or spouse, contact us.